Happy Thanksgiving!
on
November 17, 2016
at
4:43 pm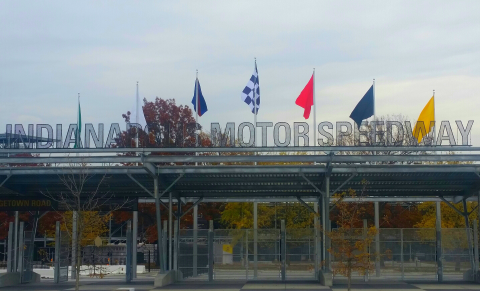 Recently, a very close friend of mine sent me this verse as a reminder of how big our God is. Joshua 1:9, " Have I not commanded you? Be strong and courageous. Do not be afraid; do not be discouraged, for the LORD your God will be with you wherever you go."

This was a command from God to Joshua following Moses' death; that Joshua was going to take the Israelites, after wandering the desert for 40 years, into Canaan. This is a great reminder for us in our lives. No matter how big the task is in front of you, or how long you have waited, if God has appointed you to that task, your approach can be one of confidence and resolve. This approach is not necessarily because we are good or have done everything right, but it is because our Lord, your Lord, is with you. And He is just not present is certain situations, He is there in every situation!

So whatever your situation is, approach it with strength and courage. Be fearless and confident knowing that the very God that put this planet into motion, can direct every step you take on it!
Faithfully in Christ,

Director and Chaplain
---
Happy Thanksgiving
We at IndyCar Ministry would like to wish you and your families the happiest of thanksgiving this year. We are also thankful for you. You are appreciated and are a huge part of this ministry!
Psalm 107:1, 8-9 NLT, "Give thanks to the LORD, for he is good! His faithful love endures forever. Let them praise the LORD for his great love and for the wonderful things he has done for them. For He satisfies the thirsty and fills the hungry with good things."
---
The Off-Season
We always get a question this time of the year that goes something like this, "So what do you do in the off-season?" A valid question, since many of you only see us at the race track!
We do a number of things when we are not at the track. We currently have seven Winners Circle studies that chaplains and ministry volunteers lead on a weekly basis in various race shops. We have regular meetings with all of our chaplains and Winners Circle leaders, where we discuss how we can do things better and where we feel God is leading. We are already working on a sermon series for the 2017 season. We are busy putting together year end reports and starting budgets for next year. We have regular meetings with our Board of Directors. We do a number of shop visits during this time to stay connected with the teams. We write newsletters and are working on a year-end physical mailer. And we still do counseling on a regular basis, as well as hospital visits, weddings and funerals.
Pray for us as we work "behind the scenes" and look to next season!
---
From the Paddock – Kevin Simpson
I grew up up in a Christian atmosphere down in Texas, So I knew about Christ. For twenty years, I thought I had a handle on it myself so there wasn't a lot of recognition of my faith.
I moved to Indy about sixteen years ago and started working in the IndyCar series. It was then that I met David Storvick with IndyCar Ministry. Over the next few years, I got married and had a child but something was missing; I wasn't quite sure what it was.
I was working at Vision Racing when IndyCar Ministry started a Winners Circle study there. David led the study and we had many good conversations about faith. That relationship got me started doing some reflection of my personal beliefs and searching the Bible. Shortly thereafter, my wife and I found a church, got baptized, and became involved in several church ministries. I now run a homeless ministry and we have become foster parents for underprivileged children.
While it is only through Jesus Christ a soul can be saved, he works through people and organizations in our lives and I owe David and IndyCar Ministry a great deal of thanks for allowing God to work through them. I currently attend a Winners Circle Study that meets at 7am on Thursdays at Lino's next to Dallara. I always look forward to our weekly meetings led by Chuck Lessick with IndyCar Ministry. All are invited.
God bless.
Kevin Simpson | Hebrews 11:1
Kevin started his career in drag racing and, after moving to Indy, he worked for Cheever Racing, Vision Racing, and Conquest Racing. He is currently employed by Dallara and works at their facility in Speedway.